Thanks to its hygienic characteristics and resistance, Corian® is an ideal material for the kitchen. While primarily used for countertops, Corian® can also be easily adapted to create other elements, including snack counters, tables and cabinet fronts.
Corian® is available in a vast range of finishes: from classical white, admired by lovers of all things minimal, to textures that simulate natural materials for an environment that reflects personal tastes./p>
Corian® counters in the kitchen
Kitchen counters in Corian®, available in thicknesses of between 12 and 100 mm, can be integrated to include cooking hobs, sinks and basins. A kitchen countertop in Corian® can be enhanced by the addition of practical splashes that guarantee perfectly clean surfaces even in the hardest to reach corners. Splashes are completed by wall panels in Corian® or glass, ceramic or high pressure laminate.
A few suggestions. Because Corian® is a material with a medium rigidity and tends to bend when not properly supported, 12 mm kitchen tops must always rest on the base cabinets or be supported by a structure that exactly matches its form. When base cabinets are separated from the wall, it is important to fix a full length wood block to the wall below the top. For tops positioned between two walls it is a good idea to introduce a 3 mm shadow gap around the perimeter to allow for thermal expansion.
Cooking hobs – like downdraft exhaust systems, when present – can be mounted flush with the countertop. Instead of gas hobs, which can transmit a great deal of temperature to the countertop, we recommend induction hobs, which tend to be safer, more functional and more sustainable in terms of energy use.
Corian® countertops can also be fitted with basins and sinks. In this case, a stainless steel sink can be installed flush with the top, though there are various other possibilities. Basins and sinks can also be fitted with a drain board created by routing the surface of the countertop to channel water.
Corian® kitchen countertops
Normal edge 12 mm.
20 to 60 mm edge.
Non-drip edge.
Basins and sinks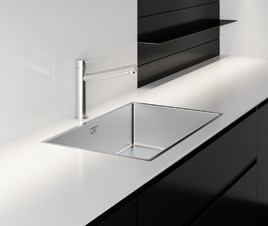 Flush mount stainless steel sink.
Undermount stainless steel sink.
Corian® sink with integrated basin.
Detail of the flush mount stainless steel sink.
Detail of the undermount stainless steel sink.
Detail of the integrated Corian® sink.
Splashes in Corian®
An applied splash tends to conceal eventual irregularities in the perimeter wall. It can be adjusted during installation of the top. Splashes are applied using a silicone sealant.
A 90° splash can be prepared and fixed during construction of the countertop or installed in loco, using a special Corian® glue.
A 12 mm integrated cove mould splash is the best solution for a countertop as it guarantees easy maintenance and exceptional hygiene.
An 8 mm integrated cove mould splash, like its 12 mm counterpart, leaves no room for moulds and bacteria to flourish.
Tables and snack counters in Corian®
Tables and snack counters in Corian® are highly resistant to daily use. Small scratches and dents can be removed using a Scotch-Brite sponge. Cleaning is easy, even using the most common products. The look is modern and minimal.
This long snack counter in Corian®, which can host up to four people, has the same finish as the central island.
Pure lines and clear cut corners: this snack counter in Corian® has a contemporary and essential aesthetic.
Kitchen front panels in Corian®
Even the front panels of lower and upper cabinets can be in Corian®. Thicknesses vary from 12 to 20 mm. Possible customisations include 45° chamfers or groove handles. Corian® front panels are easy to clean, resistant to scratches and dents and easy to repair should they become damaged.
Not only front mount panels: Corian® can be used to create any typology of front panel, including those with particular hinge systems.
In aesthetic terms, Corian® matches even the most modern handles, such as grooves and push-pull systems.
A few examples of completed projects
Why choose Corian® for kitchen counters and cabinetry:
because it is hygienic and non-porous: even the most stubborn food stains remain on the surface and can be easily wiped away;
because it is resistant: scratches and small dents caused by day-to-day use can be removed simply using an abrasive Scotch-Brite sponge;
because it has no visible joints, even in L-shaped compositions.
Thinking about using Corian® for your kitchen countertop or cabinetry? Tell us about your idea.